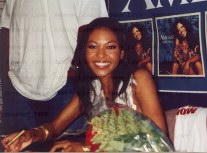 Soultrain.com - Amerie Interview
ST.com: So Amerie, this is your first appearance on Soul Train. How does it feel?
Amerie: It feels really good to come to Soul Train. It's the first time I've ever been here, but it's definitely, definitely a dream come true. You know, to watch the Soul Train show on television as I was growing up, and then to finally be here, it makes everything seem unreal. But it's real!
ST.com: So tell us, what was the path you had to take to get your record deal?
Amerie: On the road to my record deal, I was met with some disappointment, of course, trying to get out there and do my best to let anyone hear me, anyone who could possibly help me, but it wasn't until I would say my fourth year of really, really working towards a career in music where things began to take off. I met Rich Harrison of Richcraft Incorporated - and that's my producer, he produced the whole album - and we worked together on a five-song demo and eventually I acquired a manager, Ed Holmes for EHM, who actually turns out to be my cousin. He was like, 'Well let me meet your parents and find out more about them and let them be more at ease with the whole business and everything.' And they were like, 'Yeah, such and such, and such and such,' and things were familiar so, he's actually my cuz, and we met together, as well as Rise Entertainment which is Jeff Burroughs and Darryl Williams, and we all pretty much went together with the five-song demo to Columbia Records where we were shopping the deal.
ST.com: Now, I know you call Washington, DC home, but you've been all over the place, right?
Amerie: I've lived all over the place. I've lived in Korea, in Germany, all over the states, like, Alaska, Texas, DC - which is my home now. I went to college in DC, so definitely that's a very, very special place to me.
ST.com: Now tell us about the time you got onstage in Alaska at the MC Lyte concert.
Amerie: At the MC Lyte concert... well actually, MC Lyte came, I should say, to start the story out with the New Year's. It was 1994... I think it was 1994, and MC Lyte came, and she just put on a show, and at the end she had an open call and she was letting everyone come onstage whether they wanted to rap, or sing, or dance or whatever, and the crowd was rough! They were a rough crowd 'cause they were throwing things, but I was jumping up and down, and I was like, 'I can sing, I can sing! Come on, come on!' Well, MC Lyte said, 'Pick her 'cause she looks like she could sing.' And the bodyguard found me and lifted me up and put me onto the stage, and I just grabbed the mic, turned around, and I just started singing. And I wasn't afraid until I stopped singing.
ST.com: Now I know you've worked very hard to get to this point, and it's all new and exciting. When you think back to the time when it was just a dream, is it like you thought it was gonna be, is it different, is it harder, is it easier?
Amerie: Well I can definitely say that so far with my career it's lived up to expectations. It's, I wouldn't say harder than what I thought it was going to be because I knew it was going to be a struggle. I mean, it's definitely a competitive area, but it's fun, and it's what I wanted to do - always. So, I think I would say it's more than what I thought it was going to be because I enjoy it more than I thought I would. I didn't think I would enjoy the traveling. I didn't think I'd love to perform because at the beginning, I had such tremendous stage fright that I dreaded every show and I was just like, 'Why, why can't I just stay in the studio and just do pictures and videos?' But it's great, and I actually love life on the road too.
-Special Thanx to SoulTrain.com
_____________________________________
Interview-Giving All She Has - Amerie*
By Alisa Applegate
All it takes is a mere 120 seconds for listeners to grab a hold of Amerie's brand of melodic hip-hop soul on her sexy first single,
"Why Don't We Fall In Love." With the video Buzzworthy on MTV and a tour with legendary rapper Nas coming to a close, Amerie
is ready to take the world by storm with her unique blend of hip-hop and R&B on her debut album, All I Have.
Amidst touring, photo shoots and promo stops, Amerie's down-to-earth personality hasn't changed one bit. With a strong network
of support, including her "musical soul mate," Rich Harrison, who wrote and produced All I Have, Amerie is ready to introduce the
world to her sound.
Was there a particular turning point in your life that made you decide to become a singer?
I always wanted to be a singer, but I really knew that this was what I wanted to do during my senior year in high school. I also wanted to go into modeling, acting and writing. I was an English major in college and I always wrote short stories and drew comic books.
I would actually staple the pages together and make books. That's definitely something I want to explore separate from the music. Singing was the thing I wanted to do first. Singing has always been a part of me; it just feels right to [pursue that as a career] first.
On your debut album, you wanted to create a sound that was "different yet familiar, gritty yet melodic" and "pretty yet tough." Was it hard to bring about that balance in the music?
No. It actually wasn't that hard. When I met Rich I just fell in love with his music right away. I had sent him some songs that I had written and he needed a female vocalist. He wanted someone who could do those pretty harmonies, lush vocals and beautiful melodies, but he also really likes the gritty things, too, which I do as well. I really loved his R&B sound. There was also a hip-hop sound. It had been hard for me to find someone who could do those types of tracks. He's my musical soul mate. Instead of actually knowing what we wanted to do and then trying to apply it, we just fell into the music--and it happened to be what we wanted.
How did you meet Rich? What was the process of making the album like?
Rich and I met through a mutual acquaintance. I heard his tracks, he heard my songs and we decided to give it a shot. We recorded one song. It was cool, but it wasn't what we have now. It wasn't really all of him and it wasn't really all of me. So we tried another song. Although we had yet to commit to anything, we felt like it was really going where we wanted it to go, and with every song since, then we've been getting consistently better. That continued from doing the first song from the demo to the last songs on the album, like "Why Don't We Fall In Love," "Talkin' To Me" and "Nothing Like Loving You," which are the stronger songs.
Did any of the songs surprise you in how they changed from the demo stage to the final cut?
They definitely became more of our own thing. When we came into it there was a lot of him and a lot of me, and when we were putting it together into a song, it might not necessarily have meshed. It would be a song that was half-Amerie and half-Rich­versus now where it's an entire new thing. I know what he's looking for without him going into detail about it. And he knows a lot about what I'm looking for and what my style is. Everything just gets better with every song.
Did you help with any of the writing process?
Rich wrote all of the songs on the album except for the last song, "I'm Reminded," which was my thank you to God. Rich knows how to really tap into who I am. A lot of times we would vibe and talk about past relationships, our friends' relationships and our philosophies on things. Sometimes he would write something and I would say, "Well, I wouldn't say that," or "I don't think I would act that way." He might change the song around a little bit, but it was really about us connecting, and then him writing off of that vibe. I did write on the tracks I did with Nas and Royce Da 5' 9"...and I plan to write a lot more on the next album.
The common thread throughout the album is love. What were you experiencing personally at that time?
I was going through my last year of college and I was experiencing one of those relationships that you know is not working, but you keep on holding on. You don't want to make the effort to end it...or to keep it going either. I was going through that and a girlfriend of mine was going through a really hard time. She was experiencing something that I had gone through earlier in college, so I was trying to help her with that. Often I would bring all that into the recording sessions. When it comes to love and relationships, there is endless material because there are so many things that can happen and so many different perspectives you can take.
What are some of your personal favorites from All I Have?
I definitely love "Why Don't We Fall In Love." There's something about that single that gives me a lot of energy. That was actually initially the intro for the album, but it went from being just the intro to a mix show/club single to being a single. That was the perfect way to introduce me. I wanted to make sure that I came out with a bang; I wanted people to know that what we're doing is a strong musical movement. [That song has] energy, harmony and building vocals...it's a strong song. And now with the Ludacris remix, it's crazy. I also love the second single, "Talkin To Me." It has a great groove to it and it automatically makes me feel good. It could be about love at first sight, [or] having that special connection with someone even though you haven't said anything. I really like the ballad "Nothing To Loving You." It's the ultimate sexy/love single on the album. It's not a melancholy ballad like "All I Have." It's about being in love and all the great things that come with it. It's so me; it was one of the last songs we did. Rick didn't have to give me a lot of direction on the song. I automatically knew where I wanted to take it and how I wanted to interpret it vocally.
You've had the opportunity to work with Nas and Royce Da 5'9" and have recently been on tour with Nas. How did those experiences prepare you for the whirlwind you're experiencing now?
Nas heard one of my songs on the album called "I Just Died," and that led to us doing the song "Rule." About three weeks before the tour was supposed to start, his management spoke to mine about going on the tour to support that single as well as my first single, "Why Don't We Fall In Love." At that time, the single was just beginning to get a lot of radio play outside of the mix show format. I thought that was a great idea. I was honored. Not only is Nas one of my favorite rappers, he's one of the greatest rappers ever. I still feel how I did when I finished the album­[that] all of this stuff wasn't happening yet. Now it's so funny because everything's been happening and changing, but at the same time, I can't really see it because I've been on tour. I wanted to use the tour as an experience...get the exposure. I was definitely going to learn by watching Nas in action. I've learned how to share a stage with someone and perform with a rapper. It's very different. You have to learn how to work the stage and keep the stage visually balanced at the same time making sure you're not in their way. I've learned so much.
What do you want listeners to learn about Amerie from this album?
I want them to know that this is real music. Rich and I have really put a lot into this album. We came up with something that people could feel. I wanted to make sure that, with each song, people know a little more about me than they did before. Rich's goal has always been to change music. Through time there's always an era where things are changing. Like New Jack Swing back in the day, or hip-hop soul and the merge between R&B and hip-hop during the '90s. Now, it's time to bring it all back in a fresh package something old with something new I definitely think he's bringing about a new sound.
Any final thoughts?
I want to plug my web sites, www.amerieonline.com and www.amerie.net. The album, All I Have, drops July 30. I want to thank my management Ed Holmes Management, Rise Entertainment and Rich Craft. This project is our baby. I am just really blessed right now.
-Special Thanx to Ms. A. Applegate
_____________________________________
More Interviews to come...