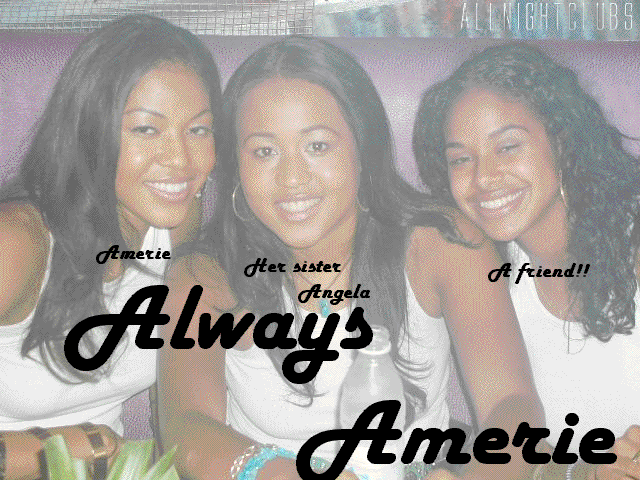 I want to start off by Thanking Amerie for becoming the humble, friendly and down-to-earth singer that she is... You don't deserve what those people say about you in tha message board on your site... Jus shake dem haters off... Like we do here in Fla!!! This site is all for you and I hope to meet you again soon.... This is "ALL I HAVE" for you!!!!! You went on tour with my man Usher... I wish I could have went but unfortunately J-Love on 102jamzorlando couldn't hook me up with tha tickets to the concert... LOL!!! Maybe I'll get lucky next tour or sumfin... LOL!!! What's Up Angela, I dunno you but I wanted to meet you down here in florida with your sister Amerie... Man I wanna get to know more about you too... Yall are so adorable together!!!
One Love Forever AME RIE!
I want to thank the haters... Where would I be without them... LOL!!! The haters know who they are, I ain't gonna put them out.... Well maybe 2 of them... They can keep doing what they do cause it obviously seems that they love to think about us and give us all the attention we need to make them look stupid!!! LOL!! So haters keep doing what you do!!!
I want to also thank the lovers.... I ain't gonna down yall for doing what yall do...
Love holds many bonds...
Bonds have many struggles....
Struggles have many Problems...
But the problems always get solved with a lil bit more love!!!
Ya Smell ME!!!
Plus love gets rid of the HATERS!!!!!
Next, I would like to thank..... Ma friends that helped me with my group....
Canuhelpme2285- Gurl, thank you so much with everything you did for me, pics and all of the e-mails that you send to inspire me!! You have done so much for me... Extra thanx go out to you for help with the usher e-mails and our usher yahoo group!!!!
Mickeyce- What's up gurl... Ya Usher_Chilli group is blazin... Maybe you should check out ma group sometime....
UsherFans_8701
It's blazin too... Did you hear the music?? If you need an usher song for your group, holla at me!!!!
KE- Gosh... I've known you for about a year now... And whenever I talk to you it's like talking to the older brother that I've never had... Keep being successful in life and GOD BLESS!!!
Pee eye tee tee- Keep being sexy... LOL!!! With your crazy self... Do you have a gurl yet?
Lina9585- Thanx for helpin me out with the designs and being the moderator of our B2K yahoo group....
LuvinB2K
PuertoricanMa04- Keep actin like a monkey and keep yo dirty friend JOE in check... LOL!!! J/K... I got him wrapped round ma lil pinky finger....
Tenderlove- Thanx for everything gurl, keep that usher site tight!!! I'm lovin it!!
Rawgyrl- Gurl... You are the numba one hater and I jus wanted to let you know!! Thank you for all the hate... It's getting me somewhere.... I'mma be a senior while you are still a freshman!!! Man don't let ma sister catch you then you'll look real stupid... She graduates in 2006 and if she catches you then all I gotta say is DAYUM.... Jus keep your job as a hater... It'll make alot of people successful while you're doing nothing!!! Thanx again!!!
Blaque88- Thanx for HATING on me too... See what it got me... Some more success on doing what I love to do best... Help out famous people, and not bring drama to the people who like to represent them!!!!
I wanna give a huge shout out to the people in Florida.... We really don't get our time to shyne like the big upstate crew and tha east cost crew... We jus wanna keep it gully like yall!!! I'm reppin fo tha durty souf, thanx!!!!
Big Shouts out to Dr.Phillips High School in Orlando, FL... One of the biggest high schools in Orlando... This is ma last year out there and this school got it all man... Amerie you need to do sumfin like a concert here.... I bet everyone would love to see you in concert at Dr.Phillips High in the Gym... It's huge!!!!
Big shouts to ma dawgs at DP... Pat aka St. Lou.... Dana, Karla, Vicki, Shorty aka Shirin, Ruth, Tash, Agueda, Nigar, Victor, Latoya, LaNaya, Krista, Alvinet, JT, Mike aka Afro Thunder, Matt, etc.... If I 4 got bout u then.... Sorry, take it as LOVE!!!!
Also shouts go out to OakRidge, Evans, Jones, and Olympia High Schools.... Where all my peeps reppin gettin their schoolin on.... Yall keep ya head up and do what Amerie is doin!! Being successful!!!!
MA PEEPS!!!! - - - - - > Keepin it gangsta..... BabyJ407, CuteTAshley, Micheleabc2004, Miltpimpinbig, Oketha, PuertoricanMa04, Shortgirl_of_NY, TweetyTIGG56116 and tha one's I forgot... One Love Forever!!!!!!!
Man... I dunno what else to say.......
KEEP IT GULLY!!
MORE SHOUTS OUT TO COME!!!
*RIP... Aaliyah and Left Eye!!!
Sadly missed but never forgotten!!!!!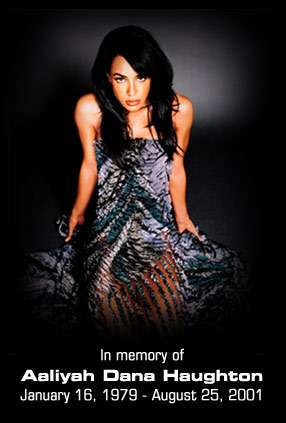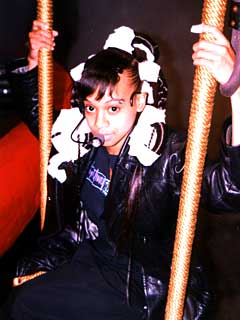 R.I.P Jam MASTER Jay....